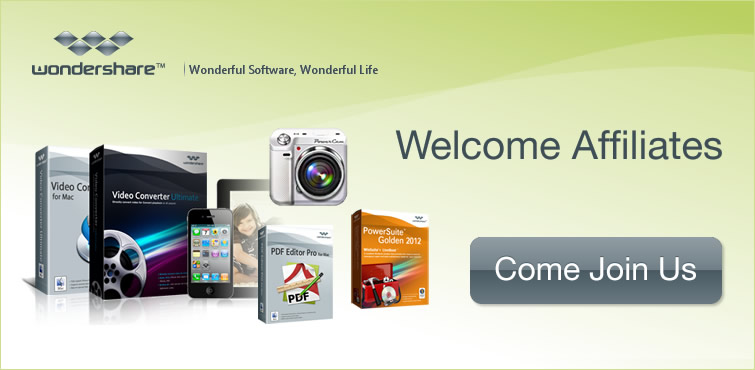 Join Wondershare Program now, get up to 50% commission rate!
Join Wondershare Affiliate Program to fully monetize your traffic! Life as a Wondershare affiliate is easy and sweet! No one else gives you more than 6 top selling software products, geared towards the hottest trends: YouTube downloaders, PDF editors, video converters, etc.
About Wondershare
Wondershare Software Co., Ltd. is an innovative software developer dedicated to delivering the very best in software products and services to the worldwide consumer and business market segments. Wondershare brings you the most easy-to–use Software Experience anywhere in the world! Our software solutions are available for Mac and Microsoft users.
Wondershare's products include tools for:
Video & DVD: converters and editing for PC and Mac
YouTube
PDF: editing, Word conversions for PC and Mac
… and many more!
Wondershare selling points at a glance:
Powerful and reliable utilities
Priced to satisfy every budget: from $9.95 up to $99.95
30 day money back guarantee
Try-before-you-buy
Satisfied more than 3,000,000 customers
CLICK HERE! TO SIGN UP FOR WONDERSHARE AFFILIATE PROGRAM
Program Payouts:
Up to 50% commission rate
90 day cookie duration, recurring
On-going promotions and competitions
Who do we approve?
We are open to many different types of affiliates such as:
Bloggers, especially techies
Website / content affiliates
Emailers
Review sites
PPC affiliates
Shopping comparison sites
Datafeed affiliates
Loyalty / rewards sites
Coupon sites* (commission rate reviewed on individual basis)
Important Note: please read the terms and conditions of the program carefully, to ensure you are abiding by our policies if approved. You are responsible, at any time, to comply with our terms and conditions.
What we look for when approving affiliates:
Relevant website / content
High traffic sites
Quality website design and functionality
Websites must be live unless otherwise stated in your application
All contact information is valid and available to our affiliate manager
We look forward to working with you soon! Respectfully,
Program Powered by: All Inclusive Marketing Inc.
TO SIGN UP FOR WONDERSHARE AFFILIATE PROGRAM CLICK HERE!